Planet Earth Software is a software house, currently building the best way to listen to recorded music - a PC based music playing program called Mars. We are currently looking for people to βeta test this program.
Please contact

.
Gig Messenger is a website that emails you when your favourite bands are going to play.
It supports:
Emails you when your favourite bands are going to play
RSS feeds
Searching for gigs
Can add a search engine your web browser
Emails you when the flight you want is cheap on Grab a Seat.
Mars
(in development)
Mars is a music player for the PC, designed to elegantly handle large music collections and help you discover new music. It aims to be the best way to listen to recorded music, and is currently being βeta tested.
With the ability to rate your favourite artists, albums and tracks, most of the time you can quickly browse just your favourites, but with one click you can view or search your entire collection. It takes just a few clicks to play your two favourite albums. You can also see the music your friends rate highly and what they have been listening to recently, giving you ideas about what to listen to when exploring their collection.
Mars' plug-ins integrate with Wikipedia, Google, Music Sites and online stores, so it only takes a few clicks to discover a band's latest album and start downloading it.
Features:
Browse and find your favorite music quickly.
Uncluttered display.
Use your smart-phone/iPhone as a remote so you can select albums from the couch.
Makes a feature of album art.
View your friends' favorites and the music they have been listening to recently, e.g. after copying a friend's collection you don't just have thousands of albums to wade through.
Plays MP3, FLAC, Ogg Vorbis, WMA, WAV, CDs and more.
Music can be viewed and maintained by artist or album rather than as a sea of songs.
Use last.fm to recommend new music based on your taste.
Show history of the music you or your friends have played.
Supports multiple users if your flatties don't share your taste in music.
Plugins can be written in any programming language (interfaced like CGI):

Wikipedia musician information such as new releases.
When browsing new albums play songs released as singles.
Play the globally most popular songs of an artist
Surf similar artists an songs
Seach for torrents with music by an artist
Web server to control the player remotely, select music from your couch using your phone as a remote
Treat a folder of songs as a CD and automatically determine the correct names using CDDB
Screenshot: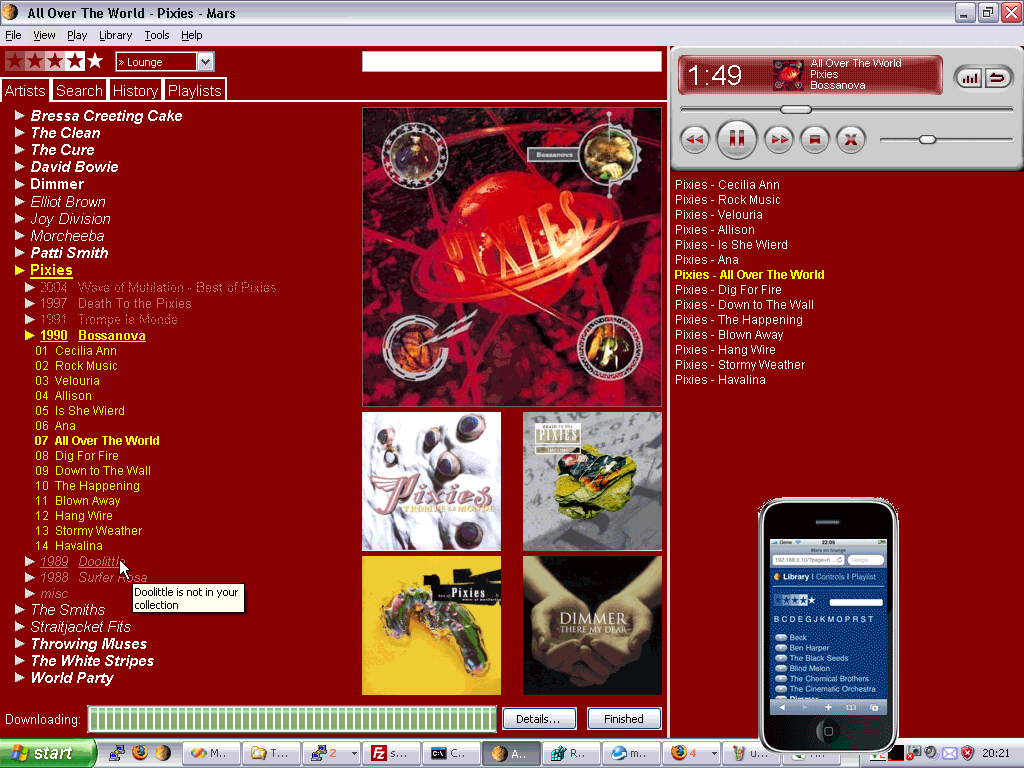 Code quality
Mars is of a higher quality than our major compeditors, here are some files that cause competing programs to malfunction:
This file causes Windows Media Player or Windows Explorer (open file properties) to stop working.
Windows Media Player/Windows Explorer and iTunes don't read ID3 v2.4 tags, 6% of one music collection I analysed.
Development Progress
2.0 beta 3
(In development)
Plugins:

Background: Use Wiimote as a remote. A real hassle as Microsoft only implemented half of the Bluetooth protocol on Vista
Background: Alarm plugin, set an alarm to raise in 3 minutes time, play the bells from Pink Floyd's Time song if you have it in your collections
Artist: all-music page, last.fm page, you tube search, google for torrents
Artist: Show similar artists from last.fm, HTML results hyperlinked to library window
Artist: Play or show n favourites from last.fm
Album: Play or show n favourites from last.fm
Album: Play tracks released as singles (from discogs.com)
Album: all-music page
AlbumInfo: Get cover and year from last.fm
Track: you tube search
Track: Show similar tracks from last.fm, HTML results hyperlinked to library window
Library: Play all favourite tracks (*** or better)
LibraryMaintenance: rename from CDDB loookup, rename from CDDB file/url
LibraryMaintenance: set track number from filenames
LibraryMaintenance: for compilations, title = artist - title, artist = various artits

WebDAV ("Web Folders") support in the web server, so you can drag and drop and entire album or artist over the web.
Ctrl-MouseWheel to change the volume
Suport sharing music on a dynamic IP address, share URL should use the dynamic as a psuedo hostname, e.g. http://dynamic:2424
Support serving files from behind a firewall if the client is visible or has port forwarded.
Use Proxy servers
Wizard for configuring sharing taste and music
CD Writing using StarBurn SDK from The Ukraine
Support multimedia keyboards
Shift-Left and Shift-Right to jump 5 sec forward and back
Override artist and album name when importing, get year and track number from tags when importing using regex, allow multiple imports until all files matches
Import Dialog: Suport path and tag parsing, artist/album/track properties, renaming, skipping and plugins such as search-and-replace, replace-spaces and Capitalise
Show window of newly imported Artists/Albums/Tracks
Files tab for browsing file system
Added search to Web Interface, lots of enhancements, more AJAX. Detect or select a mobile version of the interface. The iPhone makes a geat remote!
Moved Path Templates configuration into into [Advanced...] in Library configuration. Check path templates as user enters them.
Any volume adjustment unmutes as there is not obvious visual indication of muted state - to avoid screen clutter. Show [MUTED] in title bar if mute
Infrastructure to support skins
Object Orientates interface to Mars in Python
Plugins can be written so you can continue to use Mars while the plugin is running, attached=true, attached=modal to stop Mars being accesable while th eplugin is running
Plugin /event is now asyncronous with a timeout, so polling is efficient, Mars only replied to the plugin when an event is available
Fixed: Update volume slide when adjust volume using Ctrl-Up or Ctrl-Down
Separate the retrievel of share URLs from retreival of taste as with dynamic IP addreses the share URLs may change frequently, both HTTP transactions are sent concurrently.
Fixed Del key not working in list window
Show dynamic buffer status in Tools | Options | Output
Optimized writing ID3 tags
Fixed Winamp Input Plugin/AAC playback
Read Xing VBR MP3 header.
Rearchitected the playback threads/objects/interfaces, use Message Pipe for ITC, except for the main thread getting the track pos.
2.0 beta 2 (25 Feb 2008)
Automatically store and retreive album covers at www.planetearthsoftware.com
To quickly retreive album covers in an existing collection run Tools | Get All Album Info | Fast option.
Copy or Move Files or Folders into the library, e.g. to import recent purchases or downloads
Delete Artist, Album and Track (from properties dialogs)
Removed Windows Explorer and Command Prompt from context menus are tagging, renaming and deleting are all implemented inside Mars now. Right click on background of properties dialogs still gives Windows Explorer and Command Prompt options.
Web interface: Filter artist by rating, show album years and track numbers
Ctrl-A selects all items, allows you to enqueue the whole collection
bug: Repaint the screen properly on exit
Fixed renaming an album's artist when the artist only has that album and tracks are parsed using tags
Fixed setting album year and renaming album
Fixed show individual menu when ony one item selected
118,000 lines of code, 252,000 including libraries
2.0 beta 1 (18 Feb 2008)
Original Graphic Design
Playlists in their own tab
Automatically check for new Mars releases
Split web-server plugin into web-control and web-sharing to simplify security, no need for allow-control/allow-download/whitelist/backlist
Underline artist/album/playlist/track on mouseOver to indicate that clicking will perform a mutating action rather than selecting
Plugins for All Music and Amazon
Renamed "Skins" to "Colours"
Install with a colours scheme for each of the 16ish HTML 4 colours
Web server polling times and be tweaked by web server
Infrastructure for skins
116,000 lines of code, 250,000 including libraries
2.0 alpha 10 (29 Jan 2008)
View entire remote user's collection, rather than just items they have rathed or listened too

Download the remote user's music:

To share: Go to Tools|Options, Sharing page, tick Share ratings and history, then [New Account]. Enable the Web Server in the Plugins tab, Background section. This defaults using port 2480, this port must be forwarded though your fire wall to your machine. In the Share URLs: fields of you Account Details enter http://<firewall-IP>:<port>, e.g. http://201.24.9.75:2480.
To download: In Tools|Options, Users page, hit [Search for Remote User] and search for your friends, you may need to be authorised to download their music.

Surf viewers and providers in remote user search, from Tools|Options Users screen hit [Search for Remote User], then [Viewers Of] and [Users Viewed By]
Web server more reliable using AJAX for updating list

.mars file format v21, .taste file format v3
Web server can serve all the file, using URL /mars/<artist>/[<album>/][<num>][%20][<name>]<.ext>, share URLs default to this URL template.
Store child process IDs in registry for clean up later
GZip compress the taste files for transmission 1.1 MiB -> 380 KiB
Cache downloaded taste files as they are now sizable (1.1 MiB rather than 80 KiB)

A 24,000 song collection (1.1 MiB compressed to 380 KiB) takes 15 sec to download (@ 256 kbps) and 20 sec to load (@ 2.2 GHz), play history takes a neligible amount of space.
Web Server multi-threaded
111,000 lines of code, 245,000 including libraries
2.0 alpha 9 (15 Jan 2008)
Plug-ins configured though dialogs
Per user Plugin-in configuration

Plug-ins have help
Cleaned up audio fidelity when machine is busy (set thread priorities)

last.fm plugin
Search for remote users rather than exchange .martian files
Hid direct http sharing
Automatically default .mars file in Application Data so user don't need to think about this unless they want multiple collections
When no music visible show message showing why

When no music in collection show button to add music directories

View Background Plugin's status
Enhanced support for Winamp Input plug-ins


Configure, Help and Info Box (via Track dialog)
Mars.ini installed by default, copies to argv[0].ini for Scanner and CDWriter
Hack in GetFileInfo to get metadata if plug-in does not support metadata interfaces, format title string as "For Mars:<delimiter>:<key>=<value><delimiter><key>=<value> "


Plug-in Interface enhancements

Respond to events

track changed
user pressed buttons


Add menu items (enable and disable)

Launch web browser/GUI shell/terminal

Configuration (in script header)
Help (in script header)


Decoders have Configure, Help and Info Box

Decouple Audio output towards removing SDL dependency
Sharing is per local user (choice hidden when only one local user)
RemoteUsers/UserSkins/sharing configuration refactored into single Users heirarchy
Initial COM work to support playing multiple files from Window Explorer, very convoluted, bought a book
Bought a book on Digital Marketing and The Tipping Point, about phenomenons.
Web server taste sharing uses MySQL database
95,000 lines of code
2.0 alpha 8 (8 Dec 2007)

Added menu bar
Open files and directories
.mp1 and .mp2 playback though DirectShow .mp3 codec
De tooltips
Move install file association code to C++ in DLL